Corporate Payment Obligation Collection Services in El Salvador
Corporate Collection in El Salvador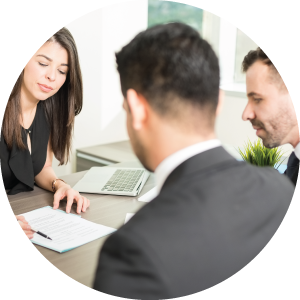 Interbiznet, a law firm in the business field in El Salvador, offers you corporate debt collection services in El Salvador. Please make notice not to mistake our corporate collection services in El Salvador with our accounting services.
The corporate service that Interbiznet offers is extrajudicial (also known as administrative) and judicial, depending on the main documents of the procedure and the needs of each client
Interbiznet's vision is to provide the best solutions in all of its service areas guaranteeing its results.
We carry out all the necessary questionings and investigations to trace the debtor, as well as the assets that he or she may use to fulfill the obligation. Also, we keep all the necessary pressure in order to corner the debtor towards paying out its obligation and before bringing a judicial action, we exhaust the extrajudicial (administrative) collection resource.
Before accepting, each case is evaluated and studied in a technical matter by a team of professionals with broad experience in the matter that it is about, informing the client about the actual possibilities of success.
Our service is aimed at cases in which the monetary value for litigation or to recover exceeds TEN THOUSAND DOLLARS (USD 10,000.00).
Our payment method is 10% of the amount to collect or in dispute, by extrajudicial means; and 15% of the amount to collect if it's necessary to resort to legal means; in any of these cases our professional fees will be settled against results.
We request an advanced payment, in concept of administrative expenses, which shall be deducted from the total amount that our actual fees might be.
For more information, you can contact us by clicking here. The first response to your queries will be free.